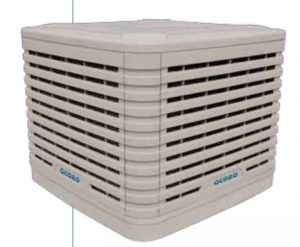 This Industrial Evaporative Air Conditioner designed for roof top installations, allows to cool and Refresh the air reducing the temperature in a large areas, large spaces and in large Spaces such as sheds, warehouses,tensile structures, business premises, in a simple and economic.
With low installation and operating costs – 25% and 15% compared to traditional air conditioning systems – This fixed cooling system comes with great economical operation and comfortable work environments. The fixed roof Evaporative air conditioning cooler is equipped with a  microprocessor control board that governs the periodic operations and control to ensure the efficiency and hygiene of the system at the highest levels.
Each Cooler, operating with normal tap water and without refrigeration compressor.